Have you ever wished that you have a decent looking passport photo? You're in luck. Kurty Photography offers U.S. passport, Schengen Visa, Canadian passport, China visa and international passport services for other countries. We guarantee that you will love the way you look, and the passport photos can be ready in 15 minutes. We also take passport for babies and children.
Unlike driver license photos taken at DMV where you only have one chance for a quick snap, you have no idea how your photo turns out until you receive your driver license. You can choose a professional photographer to take your passport and visa photo. We take several photos of you and follow the passport photo specifications. You can instantly view and select your best photo and feel good about it.
Below are the photo guides for various passports and visas, as well as tips on how to look good for your passport photo.
U.S. Passport Photo Requirements:
2 x 2 inches in size (two identical photos)
In color on a white backdrop.
Taken within the past 6 months, showing current appearance.
Between 1 inch and 1 3/8 inches from the bottom of the chin to the top of the head.
No eye glasses allowed in passport photos.
Do not wear a hat or headgear
Taken in normal street attire: Uniforms should not be worn except religious attire that is worn daily.
If you normally wear a hearing device, wig or similar articles, they should be worn for your picture.
You can smile, but it must be a natural, unexaggerated smile.
Schengen Visa Photo Requirements:
The 26 Schengen countries are: Austria, Belgium, Czech Republic, Denmark, Estonia, Finland, France, Germany, Greece, Hungary, Iceland, Italy, Latvia, Liechtenstein, Lithuania, Luxembourg, Malta, Netherlands, Norway, Poland, Portugal, Slovakia, Slovenia, Spain, Sweden, and Switzerland.
35x45mm in size (two identical photos).
Taken within the past 6 months, showing current appearance.
In color on light grey or white background.
Head should take 70-80% of the photo.
The applicant should be looking straight at the camera.
Neutral face expression. No smile and mouth closed
Eyeglasses can be worn. Must be fully visible and not covered by glasses' frame. Avoid glare or dark tint.
Avoid uniforms or colors matching the background.
Avoid hat, headwear that covers your face, except for religious headwear, and even then, the face must be clearly visible from the lower tip of the chin to the forehead.
Canadian Passport Photo Requirements:
Canadian passport has more requirements. The photo must be taken and signed by a commercial photographer.
50 mm X 70 mm in size (2 inches wide X 23/4 inches long). Two identical photos.
Either black and white or color photos are acceptable.
The name of the photographer or studio, the complete address
— street name, city, zip code, and the date the photo was taken must
be provided directly on the back of one photo. This information should be stamped or handwritten by the photographer. Sufficient
space must be allowed for the name of the applicant, the
signature of the guarantor and the guarantor's declaration.
The photos must be taken in person by a commercial photographer.
Photos must be taken within the last six months.
In color on a white or off-white background.
Look straight to the camera. Both ears should be visible.
The photo must be with neutral facial expression.
No smiling. The mouth must be closed.
Do not wear a hat or headset. Full face must be visible without hair.
If possible, do not wear glasses, especially glasses with dark frames. If you must wear glasses, ensure that there is no reflection on the glasses. Both eyes must be clearly visible.
Sunglasses and tinted eyeglasses are unacceptable.
Forehead and eyebrows should be visible. Do not cover eyebrows with hair.
The length of the face on the photos from chin to crown of head (natural top of head) must be between 31 mm (1 1/4 inches) and 36 mm (1 7/16 inches).
Tips On How To Look Good For Your Passport Photo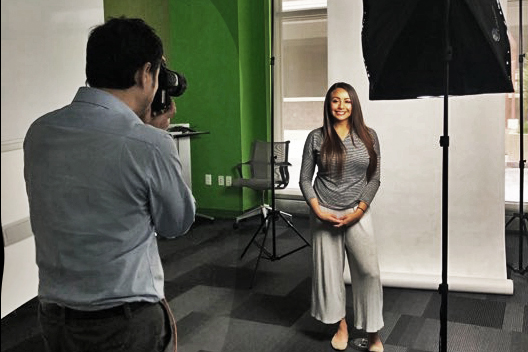 1. Go to a professional photo studio.

While you can a passport photo done at a drugstore or a passport photo agency, professional photographers use studio lighting to eliminate harsh flash shadow and make your skin look softer and smoother. Professional photographers also spend more time with you by taking several shots, so you can choose the one with the most natural and flattering expression.
2, Do your hair and wear light makeup
It is important to get your hair done the way you like. Check the mirror again before the photoshoot. For ladies, light, natural makeup is recommended. Your passport photo should match you in person, so you will have a smooth experience passing through the security check at the airport.
3. Relax and enjoy the photoshoot
Professional photographers can make you look good and the photoshoot would be enjoyable. You know you will be able to find the best shot for your passport that will last till the next time for renewal.